Types of Programs
The trifold create 6 pages of content. Booklets are created by combining single folds. Each Single fold added provides 4 more pages of content.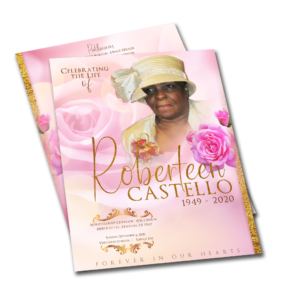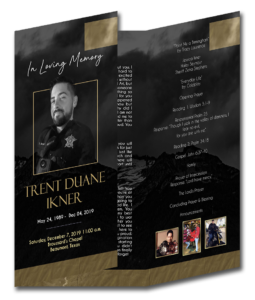 Program Dimensions
Program Page Order
For a Large 8-page booklet
Sheet 1 pages 8 and 1 ( order of page from left to right )
Page 8 – Pallbearers, Acknowledgment, Funeral arrangement info
Page 1 – Cover, other details such as date of birth and death, funeral schedule, burial cemetery, officiating pastors, etc.
Sheet 2 pages 2 and 7 ( order of page from left to right )
Page 2 – Obituary
Page 7 – Order of Service
Sheet 3 pages 6 and 3 ( order of page from left to right )
Page 6 – Tributes, Poems, 
Page 3 – Tributes or Collage
Sheet 4 pages 4 and 5 ( spread: order of page from left to right )
Page 4 and 5 – Collages, Precious Memories
Program Order Intake
We prefer to receive all program details in one page together with the photos.
Regardless of how many pages the texts and pictures were located as long as it indicates what page it should be.
1. Program details and instructions to be received via email.
2. The OMOY / BDM Team will start working on the cover, collage, layout, and crops.
3. Initial design will be uploaded on a private dedicated folder via shared Google Drive.
4. Each sheet once uploaded will be named to this format:
Sheet#-Page#-Page#-Client'sName-LG-SF8.jpg
(LG means large, SF means single fold, 8 is the number of pages.)
5. For any revisions, the client just needs to add their comment to the file by highlighting the text or image in Google Drive. Watch this video to learn how to comment on Google Drive:
Collages
Types of collages:
Symmetrical:
Un-symmetrical: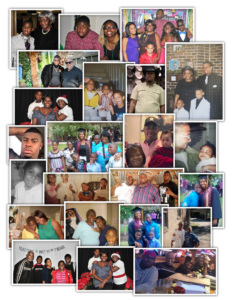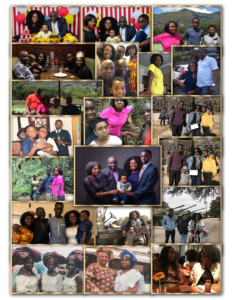 Program Font Styles & Size
Program Design Pricing
$12.50 PER PAGE
Single Fold – $50.00
Large Booklet $100.00
Large Trifold $75.00
Program Print Pricing
We believe that our network of printers can provide you with competitive pricing if you choose to print with us as your in-house designer. Let us know how you want to deal with print so we can find what's best for you and your client's budget.
Program Proof & Print File
The program will be watermarked with PROOF and submitted to the client to wait for the approval. Once approved we will upload the Final Print file.
Digital Obituaries
COMPLIMENTARY SERVICE FOR  ANY PRINTED PROGRAMS
Arlene Mayordomo
Logan Hare
Trent Duane Ikner
Lesley Jayne Broome Hansen
Allamon Joseph Guidry
Nita Fortuno Puzon
Social Media Posts
COMPLIMENTARY SERVICE FOR DESIGNED/PRINTED PROGRAMS 
We also want to boost your online presence by loading all your funeral program designs to your Facebook and Instagram account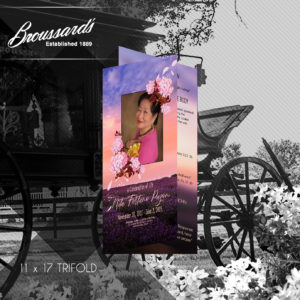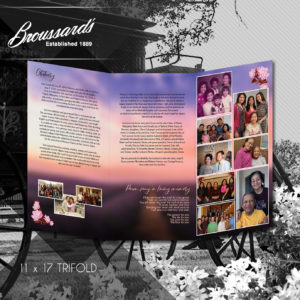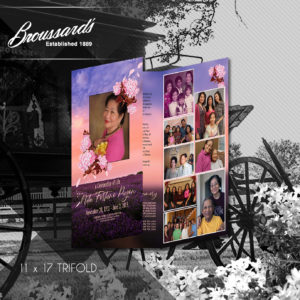 Digital Video Tributes
$25.00 PER VIDEO
Softwares we can use for this service are the following:
Adobe Premiere
Adobe After Effects
Wondershare Filmora
Canva (PAID Subscription)
Animoto (PAID Subscription)
Register Books
$12.50 PER DESIGN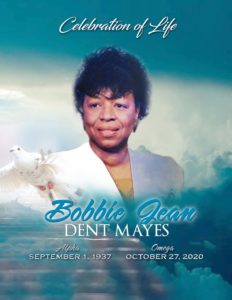 Contact Us
Ask a question or book an appointment below.